Tycoon is book one in a two part book series by New York Times Bestselling Author JS Cooper. The cover for Tycoon was designed by Louisa Maggio of LM Creations. The cover model is model Stuart Reardon.
TYCOON BLURB
Scott Colton. Wolf of Wall Street. King of the Boardroom. My Boss.
I hated him the moment I met him. And he didn't even give me a second glance.
Yet, he still hired me.
He thought I was there to submit to his every whim.
I knew better.
I knew his secrets, his skeletons in the closet. And I was going to expose every single one of them.
Then the rules changed. And everything was in disarray. Suddenly I realized that the Scott Colton I thought I knew was just a myth. The real Scott Colton was someone, even I, had underestimated.
Like JS Cooper on Facebook here: https://www.facebook.com/J.S.Cooperauthor
We are so excited about the cover reveal for Jay Crownover's ASA! ASA is the sixth and final book in Jay's Marked Men Series, published by HarperCollins. Check out the hot cover and don't forget to pre-order your copy today!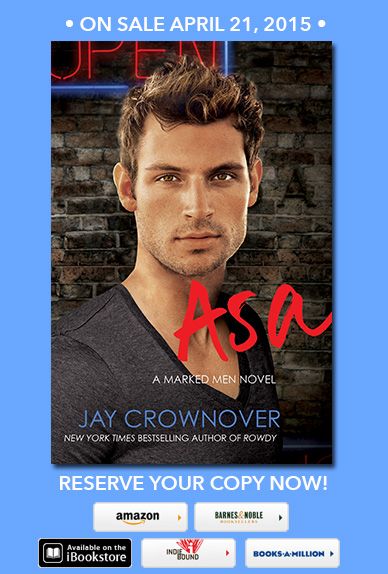 About ASA:
Starting over in Denver with a whole new circle of friends and family, Asa Cross struggles with being the man he knows everyone wants him to be and the man he knows he really is. A leopard doesn't it change its spots and Asa has always been a predator. He doesn't want to hurt those who love and rely on him, especially one stunning arresting cop who suddenly seems to be interested in him for far more than his penchant for breaking the law. But letting go of old habits is hard, and it's easy to hit bottom when it's the place you know best.
Royal Hastings is quickly learning what the bottom looks like after a tragic situation at work threatens not only her career but her partner's life. As a woman who has only ever had a few real friends she's trying to muddle through her confusion and devastation all alone. Except she can't stop thinking about the sexy southern bartender she locked up. Crushing on Asa is the last thing she needs but his allure is too strong to resist. His long criminal record can only hurt her already shaky career and chasing after a guy who has no respect for the law or himself can only end in heartbreak.
A longtime criminal and a cop together just seems so wrong . . . but for Asa and Royal, being wrong together is the only right choice to make.
And don't miss the previous books in The Marked Men Series!
About Jay Crownover:
Jay Crownover is the New York Times and USA Today bestselling author of the Marked Men series. She also introduced the dark and sexy world of The Point that started with BETTER WHEN HE's BAD and is currently working on her newest series The Saint of Denver. Like her characters, she is a big fan of tattoos. She loves music and wishes she could be a rock star, but since she has no aptitude for singing or instrument playing, she'll settle for writing stories with interesting characters that make the reader feel something. She lives in Colorado with her three dogs.

Today we're having the release day launch for Skip to the Good Part Vol 2! This is such a sexy collection, and I am thrilled to be bringing it to you!! Check out all the info about the book, and be sure to enter the giveaway!

Skip to the Good Part Vol 2 Synopsis:
Find your next red-hot read in this sizzling collection of sexy scenes.
Volume Two offers even more great reads—preorder now for just 99¢
Skip to the Good Part 2: 20 Authors Reveal Their Steamiest Scenes offers face-fanning romance and tie-me-up sizzle (and everything in between) from top authors including New York Times and USA Today bestsellers. The collection features a bride purchased by a powerful man who has sexy plans of her own, a UFC fighter who falls in lust with the sister of his biggest rival, a woman who gets naughty with her ex hoping she can keep it a one-time thing, a biker charged with protecting a woman he desires from the wrath of a rival gang, and a woman held in a captor's dungeon who finds that only part of her wants to be freed.
Read 20 of the best steamy scenes in contemporary romance and erotic romance today. This 250-page collection will get your blood pumping, your heart racing, and your skin tingling—you're sure to discover a new favorite.
Due to the graphic nature of some content, this collection is recommended strictly for mature readers.
New York Times bestsellers:
Pepper Winters | Cristin Harber | Aleatha Romig | L.P. Dover | Zoe York | Geneva Lee
USA Today bestsellers:
Carmen Jenner | J.L. Berg
Featuring:
Kendall Grey | Chelsea Camaron | Amity Cross | Elisabeth Grace | Tia Louise | Kimberly Knight | Lisa Swallow | Elizabeth Otto | Zinnia Bennett | Juliana Haygert | Claudia Bradshaw | Delancey Stewart
Buy Links:
Links:
Skip to the Good Part Vol 2 Goodreads
Skip to the Good Part Vol 1 Buy Links:
Amazon | iBooks | Kobo |Barnes & Noble
Enter the fantastic giveaway
                             By:  Sherri Hayes
Book Synopsis
After losing her husband unexpectedly, Katrina Mayer decided to open Serpent's Kiss. She wanted it to be a place where she and her fellow kinksters could play and socialize.
Five years after the doors opened, the club is everything she'd hoped it would be. On Friday and Saturday nights, Serpent's Kiss is filled with men and women who share a similar desire to explore the pleasures BDSM has to offer. The club has continued to grow, and over the years, many of its members have become friends.
The one thing Katrina didn't expect when she'd decided to open a club was the human drama that came with it. Learning to balance her life as the club mistress has taken some getting used to, but she wouldn't change a thing.
Read more…
    Crying Wolf
                         By:  Rochelle Paige
Book Synopsis
Grace Shaw is on the run from her crazy ex-boyfriend who refuses to believe their relationship is over. He's a cop and is willing to use police resources to track her down. So Grace comes up with a plan and tricks his fellow brothers in blue into thinking crying wolf a couple of times when he's reported her missing. Little does she know she'll go running into the arms of a real wolf when she finally makes her escape for real.
She just wants to be left alone, but then she meets Hunter Tate – the alpha of the Black River Pack. Grace tries to hold Hunter at arm's length, but there's just no reasoning with an alpha male werewolf who insists she's his mate.
Read more…
Title:

Axel Hitch (Book 4: A Celtic Knot Companion)
Author:

Cassy Roop
Genre:

BDSM Erotica

Kelly Harris is feisty and her strong nature can probably rival that of most men. She isn't one to take crap from anyone and has a tendency to challenge those who challenge her. A painful childhood left Kelly with a need for control in all things that she is unwilling to relinquish. Being known to dump men after just one date or one time in the sack is her usual style, until she meets Knoxville Tanner.
Knoxville Tanner is the co-owner of the BDSM club, The Celtic Knot. Having had his heart trampled on has left him jaded. The club gave him the ability to satisfy his sexual needs without the risk of commitment. On the night of the club's grand opening, however, after meeting Kelly…that all went out the window.
Will Knox be able to concede control in order to give the one he loves what she desperately needs; and will Kelly be able to accept the sacrifice and in return give Knox the one thing that she has guarded the most…her heart?
Cassy is a fitness goddess by day and smexy author by night. When she isn't writing furiously on her next novel, she's making books look beautiful inside and out as a graphic designer. She has an unhealthy obsession with peanut butter, pedicures, and all things Les Mills group fitness. She has been known to juggle seven children at a time (not all hers!) and has on occasion been seen purchasing clothes that aren't athletic apparel (although rare).
She released her debut, The Price of Love, in March of 2014.
The Celtic Knot Novels are her first erotic romance series and Books 1 and 2, Ashley's Bend and Figure Eight both reached #1 in Erotic Thrillers on Amazon. Book 3, Triquetra, releases September 22, 2014 and book 4 the companion novel, Axel Hitch will release late Autumn 2014.
Don't miss out…there will be games, prizes, giveaways, special appearances, and a whole lot of Cassy Roop!
Hosted by Dominic, Ashley, Knox, and Kelly!!
With Special Guests…
1:00 – 2:00 PM EST/ 6 – 7 UK Cassy Roop
2:00 – 3:00 PM EST/ 7 – 8 UK Kirsty E Moseley
3:00 – 4:00 PM EST/ 8 – 9 UK Ker Dukey Author
4:00 – 5:00 PM EST/ 9 – 10 UK S.K.Hartley
5:00 – 6:00 PM EST/ 10 – 11 UK Dawn H Sidebottom
6:00 – 7:00 PM EST/ 11 – 12 UK Aleatha Romig
7:00 – 8:00 PM EST/ 12 – 1 AM UK BL Marsh
8:00 – 9:00 PM EST/ 1 – 2 AM UK Cassy Roop
Image by Cool Text: Free Logos and Buttons – Create An Image Just Like This
                               By:  Nashoda Rose
Book Synopsis
Georgie
I lie to survive.
Have since I was sixteen and my world fell into chaos. But I found a way to endure, or rather it found me. Now I'm a prisoner of my own doing, hiding behind a false mask so no one sees the truth. Not even the man I want but can't have—Deck. But I messed up and the lies are spilling over, out of control.
Deck is unrelenting and will settle for nothing less than the truth. He demands everything from me—EVERYTHING—even if it rips me apart.
Deck
I kill for a living.
Unyielding—It's how I survive in my line of work. I bend people to my will…except Georgie.
But that ends now.
I've played her game for far too long. Now it's time we play mine.
Read more…
                                  By: L.P Dover
Book Synopsis:
UFC Middleweight fighter, Ryley Jameson, swore it would never happen again. He was done with his ex, and over the pain she'd inflicted when she left him. At least, that's what he tells people. Maybe if he says it enough, he'll begin to believe it himself.
Regretting her decision to let Ryley go, Ashleigh Warren comes back into town and confronts him. Holding only one secret back, she puts the rest on the line and asks for a second chance. Too bad he's not going to let her off easy.
Camden Jameson loves his twin brother, but his jealousy runs deep. They may be identical in looks, but that's where the similarities end. When Ashleigh comes back into Ryley's life, Camden has the perfect opportunity for revenge. Two birds, one stone. 
A journey to the Dark Side affects them all, but only one feels the true sting of revenge.
Read more…
Poles Apart
by Kirsty Moseley
Book Synopsis
He's pole position…
Carson Matthews, the hottest driver ever to hit the MotoGP circuit, is living the carefree, celebrity lifestyle. With little to worry about, other than keeping himself top of the leader board, his favourite weekend pastime is visiting a certain blonde at Angels Gentlemen's Club.
She's a pole dancer…
Emma Bancroft, a part-time lap dancer, is just trying to make ends meet. Her responsibilities weigh heavily on her, as does the secret she's kept from everyone for the last two and a half years.
The two of them are poles apart.
Interview
1.  You write the sweetest love stories ever!!!  Where do your inspirations come from?
Aww thank you! I guess my inspiration for my men comes from MY man, my husband Lee. He is the sweetest thing and I am treated (spoiled) like a princess.

2.  What was your favorite part of Poles Apart?
There were a couple of lines in there that I really enjoyed writing, some of Emma's sassy side, and also the emotional scenes in the middle. I loved writing her relationship with her little brother too.
3.  One of my favorite parts of the book was the way Carson would say hi on T.V.  Where did you ever come up with that?
I don't know really, sometimes things just pop into my head while writing. The characters come up with their own things while I'm writing! They tell me what they want to have happen to them.
4.  What would your family want you to say on T.V?!?!?
Ho ho ho, Green Giant. lol
5.  What is your favorite thing about being a writer?
That I get to do something that I love and that be my job, not many people can say that.
Want more Kirsty?!?!?!?  Check out my other interview with her!!  Click (here).
This was a sweet story as all of Kirsty's books are.  She is able to captivate love with all the over the top sex scenes.  Even though she brings in a stripper and a race car driver, the story isn't over flowing with sex, sex and more sex, which has been a pet peeve of mine recently.   So know that no one has a good balance like Kirsty does!!!
As always the plot line was great!  An underage stripper falls in love with the up-and-coming race car driver.  Both are working different "poles"  hehehehehe!  The story is great.  The characters have depth, the plot was good and the story kept me interested.    It was a sweet coming of age story with some plot twists along the way.
At first I couldn't figure out where the story was going and plots like that keep me turning the pages.  There were a few blanks in the story that I JUST COULD NOT GUESS!!!  But then once I turned the page I was like OMG!!!!  The only thing I wished was for the story to have a bigger climax to it.  Something that made it stand out of from similar stories with this same theme.  It was still a good book, but I wanted a little bit more.
Rating:  3.75 Stars
**Special thanks to the author for providing me a copy of this book in return for a fair review**
Amazon Buy Links: